Use case 4 - Appointment scheduling
Appointments are at the center of all key patient engagement touch-points and appointment scheduling, in particular, provides critical value to patients. It is also a source of high revenue leakage for providers due to no-shows, cancellation, wrong visit type, or long wait times while booking an appointment.
This use case enables call center agents to schedule, update, and cancel appointments as needed on behalf of the patient.
Overview
This solution focuses on provider-based scheduling and enables call center agents to schedule, update, and cancel appointments on behalf of the patient. It supports:
Multi-EMR appointment scheduling, where the appointment can be made in either Epic or Cerner
Querying of appointments/slots by Patient/Practitioner/ID and dates
API-led diagram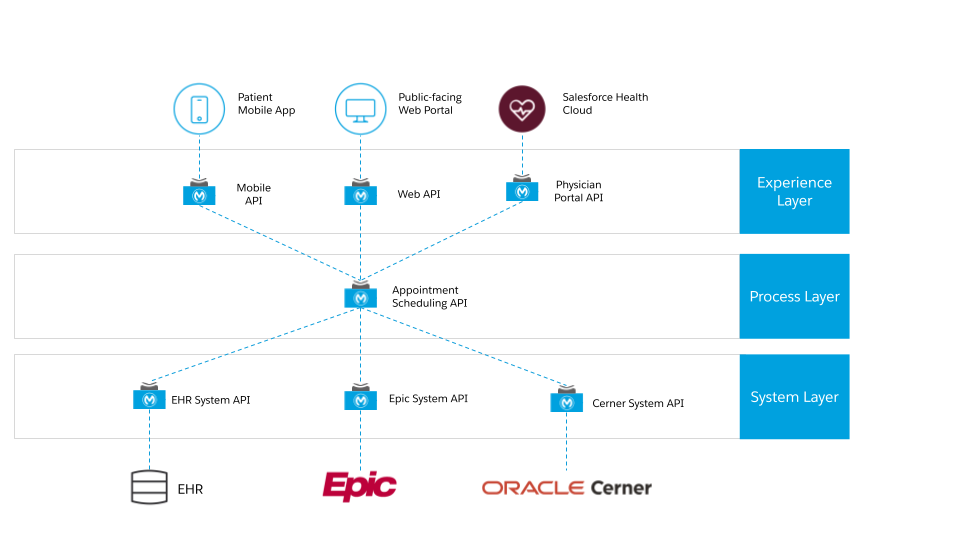 High-level architecture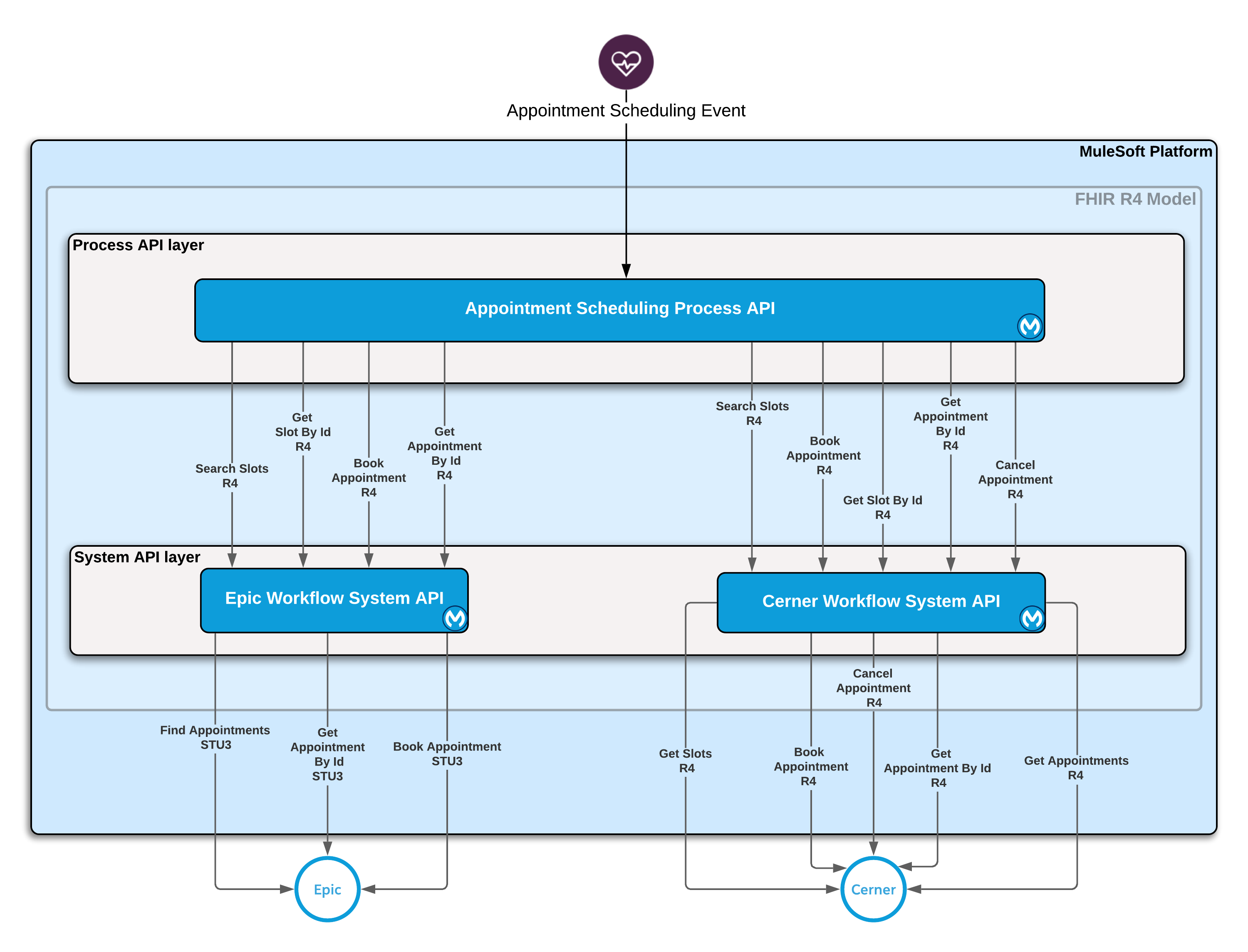 Workflow
The Appointment Scheduling Process API supports the following workflow:
Query the /slot resource to search for available slots which orchestrates calls to the backend EMRs (Epic and Cerner) using system APIs to query for available time slots that can be booked.
Invoke the /slot resource to get the status of the selected slot which calls the appropriate system API to get the slot status from the source system.
If the slot is available, invoke the /appointment resource to book an appointment, which sends a request to the appropriate system API to book the appointment.
To cancel an appointment, invoke the /appointment resource with the appropriate status
The above workflow steps have been tested with Epic and Cerner EMRs, see the table below for supported functionality:
| Function | Epic | Cerner |
| --- | --- | --- |
| Search Slots | Supported | Supported |
| Check Slot Status | Partially supported | Supported |
| Book Appointment | Supported | Supported |
| Get Appointment by Id | Supported | Supported |
| Cancel Appointment | Not supported | Supported |
| Search Appointments for Patient | Supported | Supported |
Sequence diagram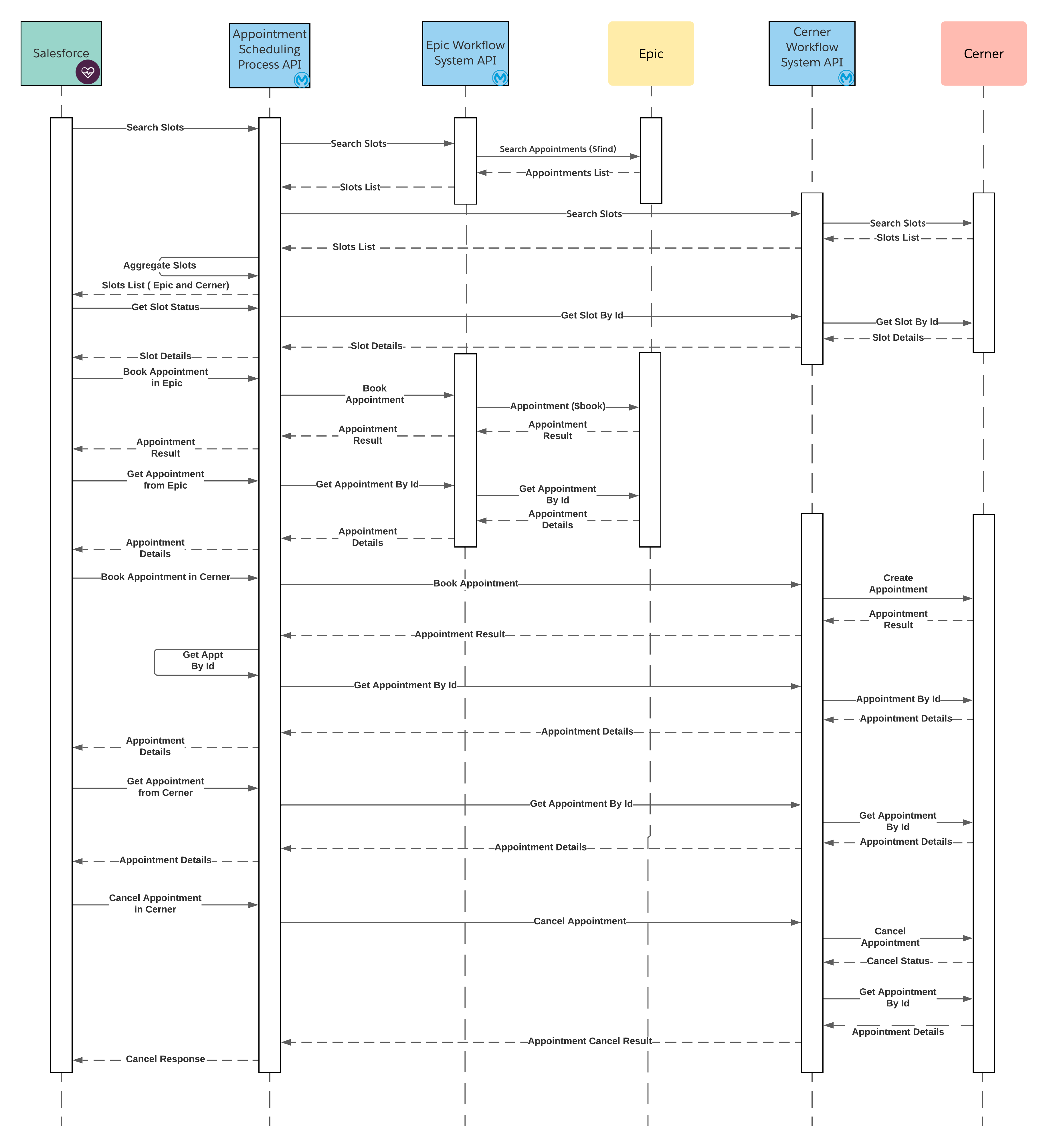 Downloadable assets
Process APIs
System APIs