Foundational assets for Payer, Provider, and Life Sciences organizations to accelerate their digital transformation journey‎
home
Overview
The MuleSoft Accelerator for Healthcare enables Payers, Providers, and Life Sciences organizations to unlock and integrate their data into key systems to streamline clinical processes and power connected experiences.
The solution includes pre-built APIs, connectors, implementation templates, and a prescriptive end-to-end reference architecture to enable EHR connectivity, power a Patient 360, and bring patient demographics information and COVID-19 lab results from any EHR into Health Cloud using HL7 V2 or FHIR standards.
In order to comply with the CMS and ONC interoperability mandates, the Accelerator provides pre-built APIs including the Patient Access, Provider Directory, and Formulary APIs. In addition, the Accelerator includes Epic System APIs built specifically to integrate with Epic's FHIR server allowing healthcare organizations to surface clinical data faster than ever before. The solution also provides an HL7v2 to FHIR data converter, a library of United States Core Data for Interoperability (USCDI), and all 145 FHIR R4 resources.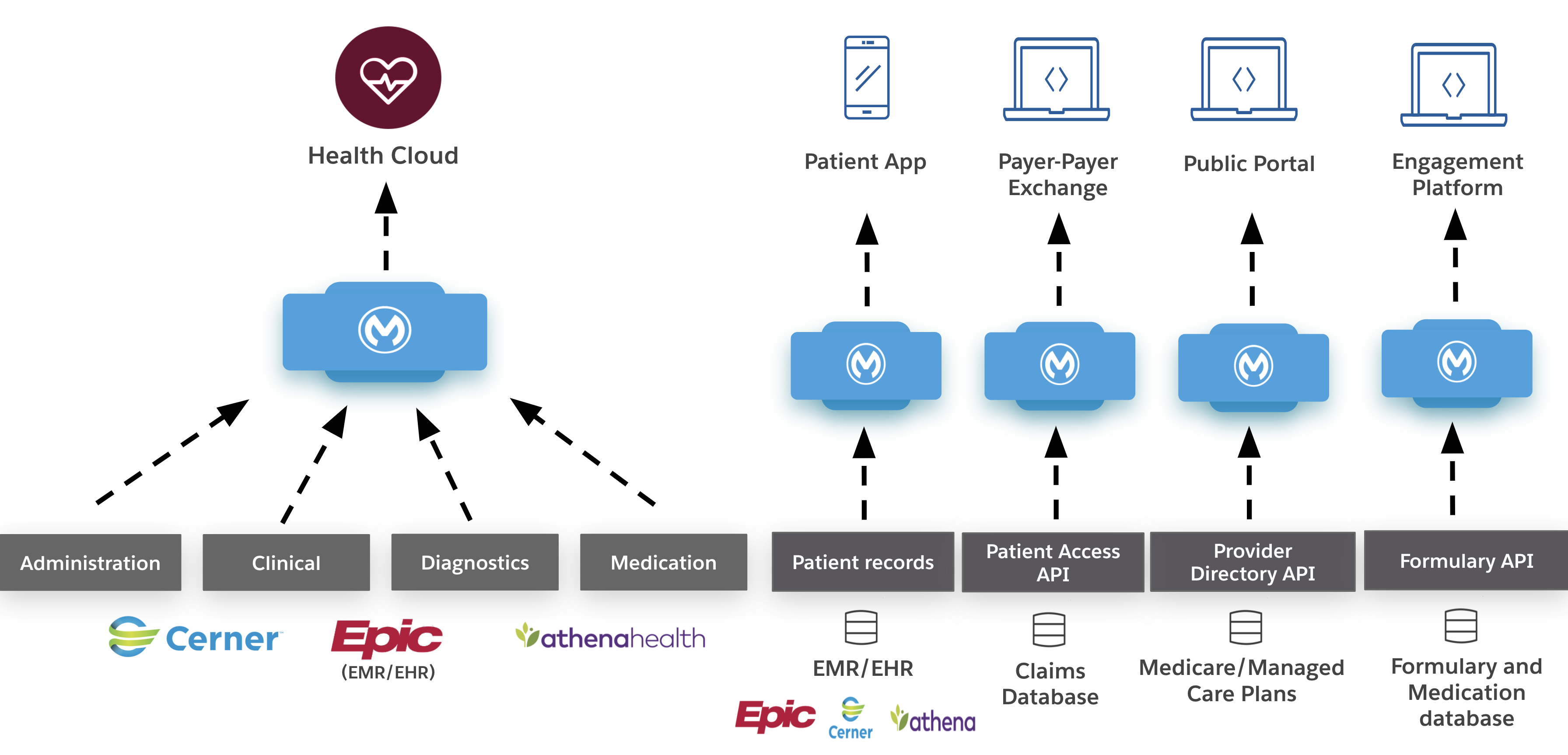 ---
What is a MuleSoft Accelerator?
Accelerators are a collection of technical assets (predominantly API specifications and implementation templates) and documentation to accelerate the implementation of multiple use cases supporting a larger business and/or industry problem.
Accelerators are designed as modular building blocks. Customers can change the patterns, mappings, and endpoints to suit their needs. They represent best practices we recommend to customers in accomplishing these use cases. Customers will save hours of discovery, design, development and testing each time they use an accelerator asset.
To access any of the links described in this Accelerator, you must log into Anypoint Platform.
---
Use cases
The following describes how to use the MuleSoft Accelerator for Healthcare assets:
The following use-case agnostic assets are also described:
FHIR R4 assets — Start your journey using these FHIR-based APIs. Includes links to additional use-case agnostic assets (resources, libraries, and APIs), as well as an API Policy that you can use to format error messages in an FHIR-compliant format.
HL7 v2 to FHIR converter — The converter comes with a ready to use template for HL7 v2 to FHIR conversion, which is based on the guidance provided by the HL7 v2 to FHIR Implementation Guide. This template can be extended or modified to meet specific conversion requirements.
---
Feedback
Give the assets a try and if you have any questions or feedback, please let us know at solutions-questions@mulesoft.com. You can also engage with other users on the MuleSoft Forum, and submit ideas in the Ideas Portal. We look forward to hearing from you!