home
This connector enables MuleSoft users to easily access to Automation Anywhere Robotic Process Automation, or RPA, bots from MuleSoft's Anypoint platform. You can now call an Automation Anywhere bot seamlessly from a MuleSoft workflow to gain access to systems without APIs and automate processes, including those with or invoke a bot to process semi-structured or unstructured data.
Automation Anywhere RPA Bots - Mule 4 enables you to perform a wide variety of front and back office processes, including contact center, sales, accounting and human resources such as:
Add, update or close accounts
Enrich leads with web-based data sources
Accounting processes like quote to cash and procure to pay
Employee recruiting and on-boarding
Here is an example of how it works: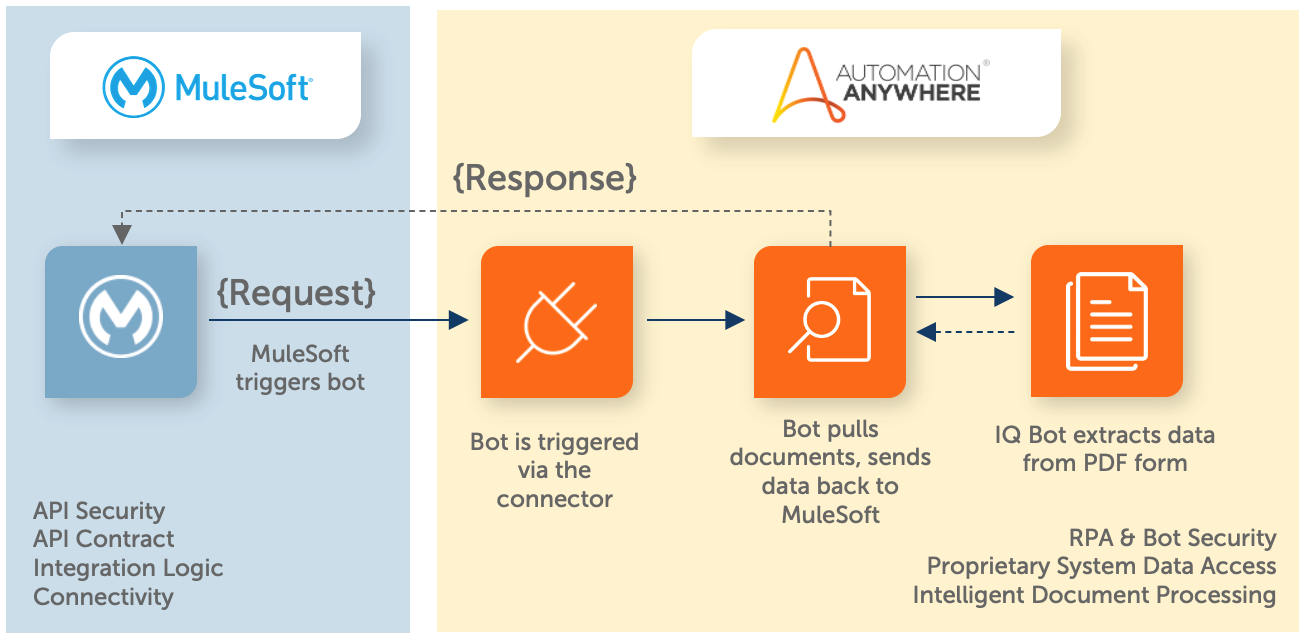 Functionalities:
Trigger and receive results from Automation Anywhere bots directly from within MuleSoft Anypoint Studio
Authenticate with both username & password / API Key
Parse and return semi-structured or unstructured data from forms and documents using artificial intelligence
Get status and activity of bot execution
Automate front and back office processes, or automate across front and back office
Supports all data types
Supports all business applications
Supported Automation Anywhere environments - Automation Anywhere Enterprise version 11.3.x or A2019, cloud or on-premises.
---
About MuleSoft Certified Connectors
MuleSoft Certified connectors are developed by MuleSoft's partners and developer community and subsequently reviewed and certified by MuleSoft. For these connectors, MuleSoft will take initial calls from customers and isolate the issue for resolution. MuleSoft disclaims any additional support obligation for such MuleSoft Certified Connector. By installing this connector, you consent to MuleSoft sharing your contact information with the developer of this connector so that you can receive more information about it directly from the developer. This connector was developed by Automation Anywhere, and reviewed by MuleSoft. To download this connector, or for questions or support related to it, contact Automation Anywhere at: https://www.automationanywhere.com/products/enterprise
This 3rd party connector does not require an additional fee to use with MuleSoft Enterprise Edition. MuleSoft Certified Connectors are not accessible to MuleSoft Community Edition
---
About Automation Anywhere RPA
Automation Anywhere RPA is simple—and powerful—business process automation software. Robotic Process Automation provides tools to create your own software robots for automating any business process. Your "bots" are configurable software that are set up to perform the tasks you assign and control. To learn more about Automation Anywhere RPA, please visit (https://www.automationanywhere.com/products/enterprise).
---
Additional References