home
About GLYNT API
GLYNT's API transforms documents into data. Use GLYNT to capture key-value pairs from loosely structured documents such as invoices, forms, lab tests, insurance claims, titles, bank statements and more.
GLYNT transforms a stream of documents into a stream of data, opening up new sales opportunities and use cases for API-led solutions. These include:
Lending: Applicants upload a mix of documents. You want data for document indexing, document routing and analytics and business logic
Financial services: Many asset classes, such as muni bonds, fund of funds, or real estate have a stream of PDFS with data and tables in various formats. You want to automate the data capture for reporting and analysis
Shipping & Logistics: Every vendor has a different document template. You want detailed and accurate data to validate and audit shipping invoices, bill of ladings, manifests and more
Healthcare: Healthcare sends 38B pdf and fax messages each year. You want accurate data that preserves key relationships and context across pages to power analytics
Insurance Claims: Every vendor has a different template. You want detailed and accurate data for audits and processing
Architecture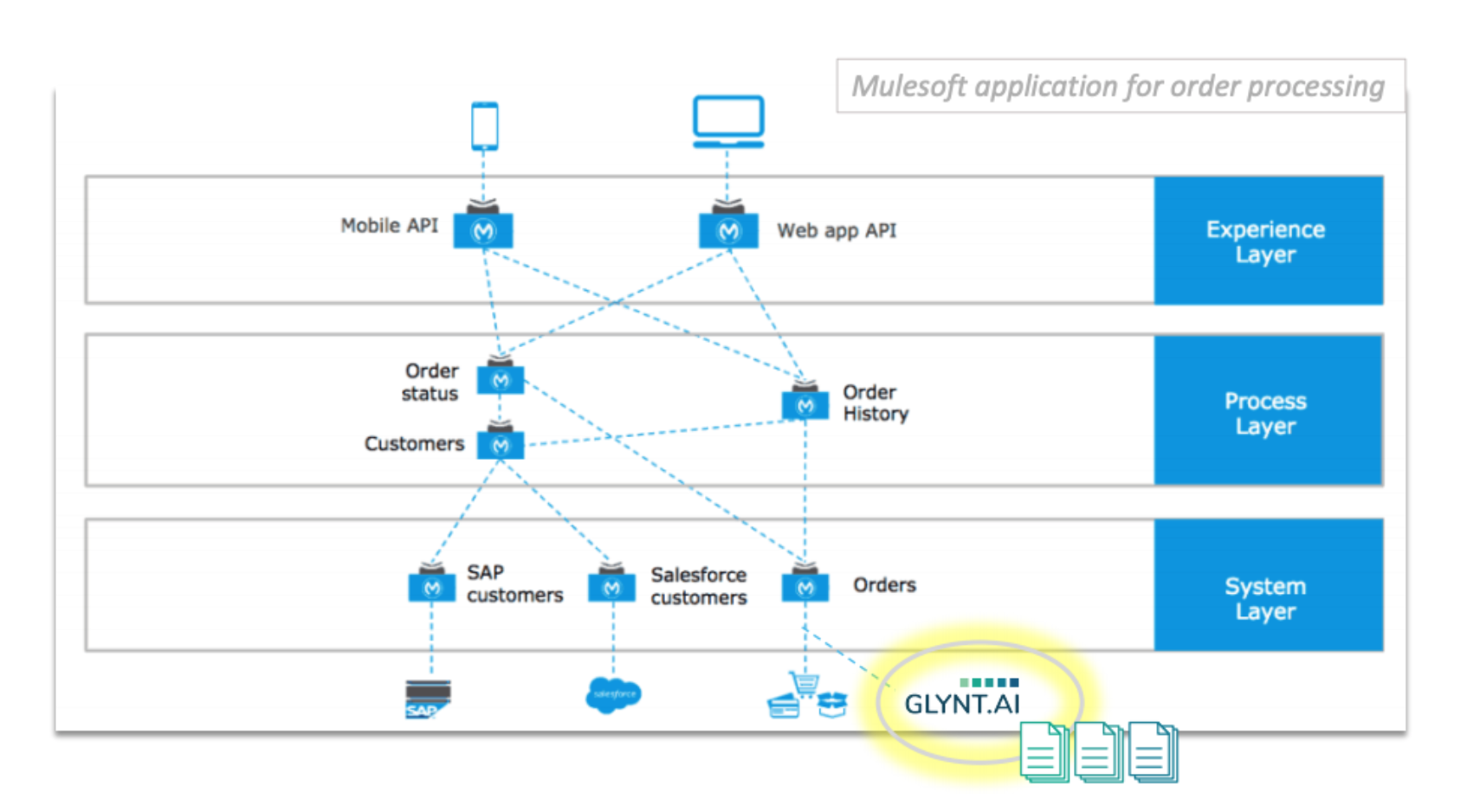 Key Features
Coverage -- GLYNT handles loosely structured documents from any department or any vertical
Accuracy -- 98% and higher
Simple Set Up -- Get first results in under an hour
Self-Serve -- Customers can easily maintain the document automation solution
Scalable -- Simply add compute to increase speed and volume
Compliant-- GLYNT does not retain Customer's documents or data
List of Operations
---
About GLYNT.AI
GLYNT transforms documents into data. With just a few clicks or an API call. An advanced "few shot" machine learning system, GLYNT extracts data from loosely structured documents such as forms, lab reports and invoices and delivers clean,labeled data to your database and applications. GLYNT provides production-quality data from the start, averaging 98% accuracy. Use GLYNT no-code UI with remote teams. GLYNT is used in energy, healthcare, financial services and supply chain verticals. See more at glynt.ai
---
About MuleSoft Certified Connectors
MuleSoft Certified Connectors are developed by MuleSoft's partners and developer community. These connectors have been reviewed and certified by MuleSoft. To get assistance or support for the Glynt.AI API, contact Glynt directly at support@glynt.ai. MuleSoft disclaims any support obligation for MuleSoft Certified Connectors.
---
Additional References