Faster, easier delivery of Salesforce integration
home
The following describes the MuleSoft Accelerators for Salesforce Clouds, which enable organizations to implement critical integrations, faster and easier than ever before.
MuleSoft Accelerator for Salesforce Service Cloud
Provides service agents with direct access to critical data they need to service customers, all within Salesforce Service Cloud. Service agents will be able to see real-time order history and order status information, as well as the ability to access critical systems to route any issues that may occur.
See the MuleSoft Accelerator for Salesforce Service Cloud page to get started.
MuleSoft Accelerator for Salesforce Commerce Cloud
Power up the shopping experience for your consumers by seamlessly connecting your customer, product, and inventory data in real-time across all systems and channels. This accelerator also gives you the ability to search for product deltas, search for inventory availability in SAP, and sync orders to OMS.
See the MuleSoft Accelerator for Salesforce Commerce Cloud page to get started.
Prerequisites
See the following setup guide, which provides general information on getting started with the accelerator components. This includes instructions on setting up your local workstation for configuring and deploying the applications:
What's included
These solutions include out-of-the-box APIs, connectors, and integration templates that help unlock critical data from external systems such as SAP, ServiceNow, and Jira; all while guiding you to adopt best practices synthesized from thousands of customer implementations. Also includes access to common services such as logging, notification, and scheduling.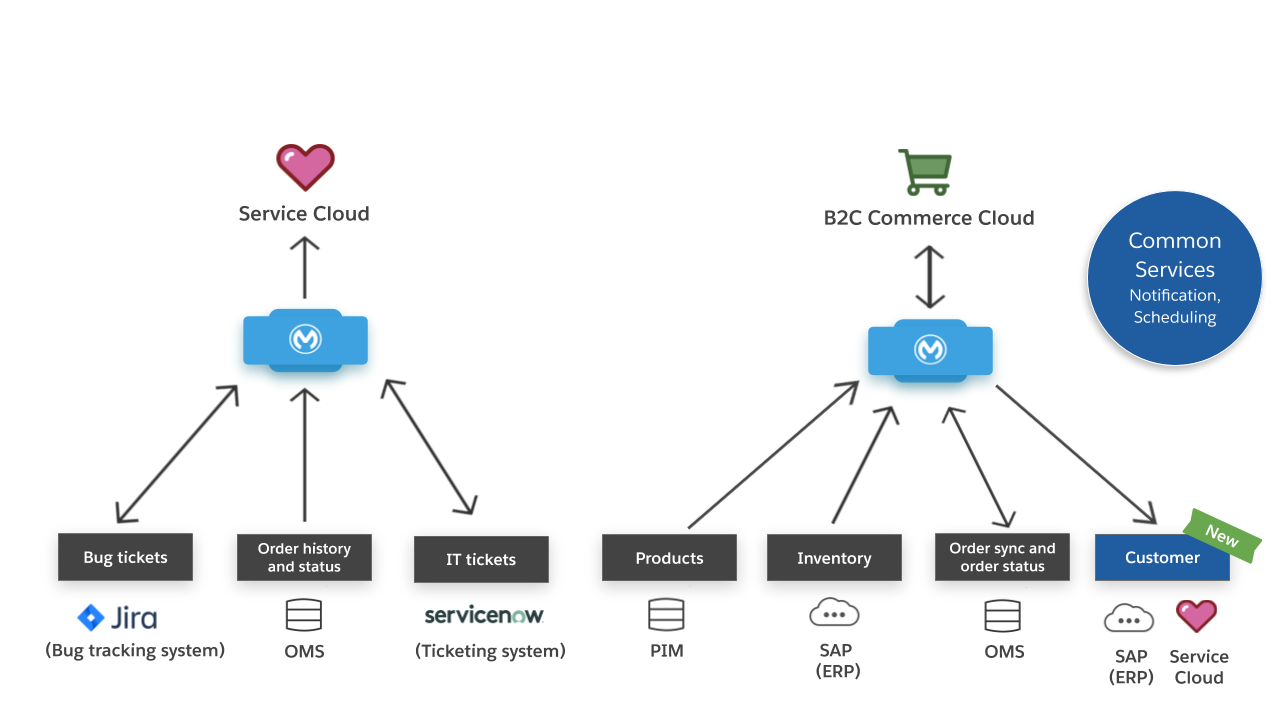 These assets can be used as-is or extended to meet your company's unique needs.
See also
Refer to the following for more information on MuleSoft Accelerators:
---
Give the assets a try and if you have any questions or feedback, please let us know at solutions-questions@mulesoft.com. You can also engage with other users on the MuleSoft Forum, and submit ideas in the Ideas Portal. We look forward to hearing from you!