home
Overview
The Electronic Laboratory Reporting (ELR) to CalREDIE asset is a component of MuleSoft Accelerator for Healthcare.
MuleSoft Accelerator for Healthcare enables healthcare providers to unlock critical patient data to build a patient 360 within Salesforce Health Cloud, faster and easier than ever before. The solution includes pre-built APIs, connectors, integration templates, and a prescriptive end-to-end reference architecture to bring patient demographics information and COVID-19 test results from any EHR into Health Cloud using HL7 V2 or FHIR standards.
The solution also provides a library of United States Core Data for Interoperability (USCDI) and FHIR R4 resources to help healthcare developers adhere to interoperability needs and jumpstart the development of healthcare digital transformation initiatives.
Use case covered
Electronic Laboratory Reporting is the electronic transmission of laboratory reports that identify a notifiable condition from laboratories to public health. The California Reportable Disease Information Exchange - Electronic Lab Reporting (CalREDIE ELR) allows laboratories to comply with California public health disease reporting requirements through an automated, secure process.
CalREDIE ELR replaces traditional paper-based methods of laboratory reporting for many reportable conditions in jurisdictions using CalREDIE. Timely reporting via a phone call is still required for selected diseases and conditions.
Please visit CalREDIE for more information.
High-level overview of this template
The following template queries the electronic lab results from a Salesforce object and sends those to CalREDIE in the predefined spec format:

Logical view of this template
This solution can be deployed anywhere (cloud, on-premise, or hybrid). As shown in the following diagram, the template establishes a secure connectivity with Salesforce and CalREDIE to ensure integrity and security of the data being exchanged: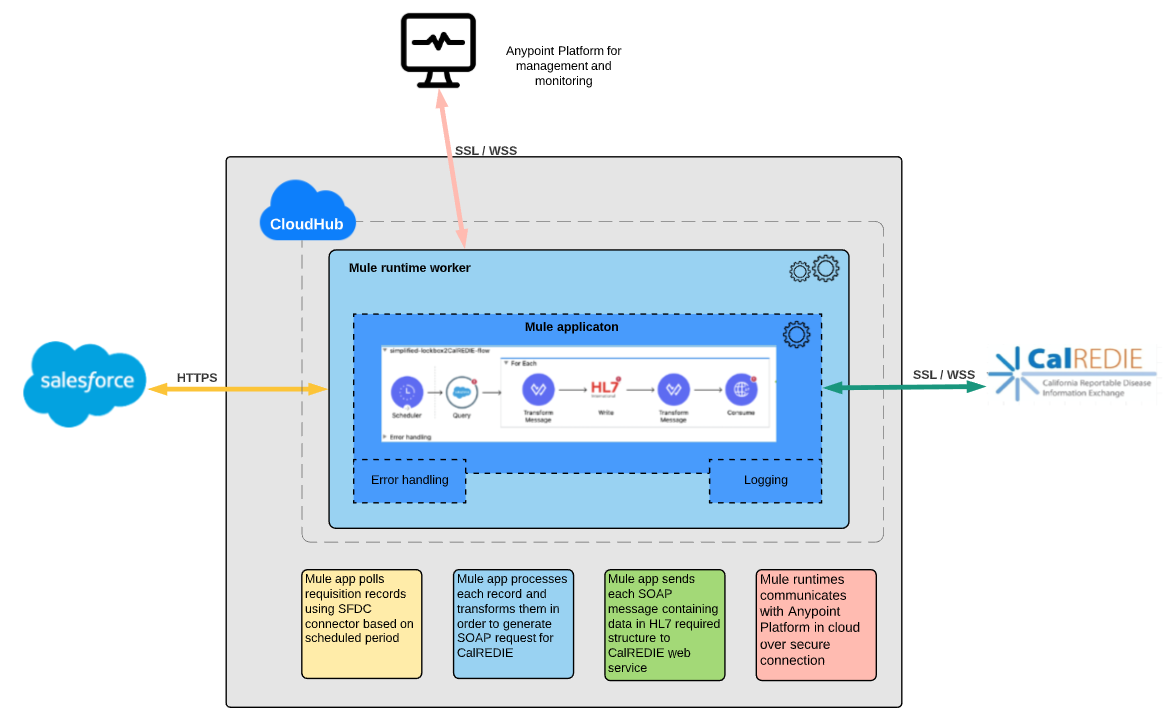 Process view of this template
The multi-step process from recording of the lab results to sharing with CalREDIE is shown in the following diagram. The aggregated test results are shared on a scheduled basis with CalREDIE: